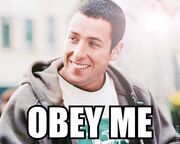 Welcome to the Wiki
Edit
Hi everyone. This is where we'll be writing out our headcanons and timelines for AMR, to get a more comprehensive look at our characters and as well as establish a working timecanon so we're all on the same page. This will also act as a working reference for new players who need to catch up on where we are in the game.
TWO NOTES:
About AMR
Edit
AMR is A Megaman Roleplay affectionately reffered to as All My Robots, and can be accessed via Tumblr . We currently boast a robust number of members in a close-knit, inviting community. Anyone who wants to play can join.
Ad blocker interference detected!
Wikia is a free-to-use site that makes money from advertising. We have a modified experience for viewers using ad blockers

Wikia is not accessible if you've made further modifications. Remove the custom ad blocker rule(s) and the page will load as expected.